BRIDGES & BAYOUS




SPRING BENEFIT CONCERT

FEATURING- 

OLD BARBER BRIDGE!!!!

WHEN-  7PM THURSDAY, MAY 24, 2012

WHERE- VBHS PERFORMING ARTS CENTER

1706 16TH STREET

VERO BEACH, FLWe're thrilled to have OLD BARBER BRIDGE guest artist at our BRIDGES AND BAYOUS SPRING BENEFIT CONCERT.  Come on out and support our local talent and orchestras!!!!

FOR MORE INFORMATION, PLEASE CLICK OUR LINKS BELOW:


BENEFACTOR PACKAGES  CONCERT FLYER PRESS RELEASE

TICKETS




ORCHESTRA  $ 10




MEZZANINE  $ 5

TICKETS ARE NOW AVAILABLE FOR PURCHASE!!! 

1. PLEASE CALL –  

 

772-564-5537

VBHS PAC- 1707 16TH STREET
BOX OFFICE HOURS M-F 10AM- 2PM

OR

2. AT CONCERT – 6:00PM MAY 24, 2012-
VBHS PAC- 1707 16TH STREET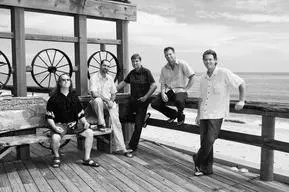 Old Barber Bridge (OBB) was formed in 2007 by guitarist, singer-songwriter Jason Nesbit and percussionist, Brandon Putzke.  OBB's six piece band also consists of long-time friend, Stewart Pierce on bass guitar and vocals, Eric Hall on guitar, mandolin and vocals, Kevin Lureau on harmonica, whistles and percussion, and Jimmy Alexander on saxophone, flute and percussion. Old Barber Bridge plays a mix of original and cover tunes ranging from folk to rock to bluegrass…it's something like that.
Nesbit and Putzke have a long history together as friends and musicians. Nesbit, a native of Vero Beach and Putzke a native of Michigan, have called Vero Beach home since the early 80's. Both have been in several musical acts together since the 90's including a 6 piece southern rock band, Rehoboth, a 4 piece folk rock band, The Fall River Band (both out of Tampa).   Nesbit and Putzke have shared the stage with Paula Cole, Col. Bruce Hampton and the Aquarium Rescue Unit, Sleepy Lebeef, and Sister Hazel.  After a brief stent apart pursuing other musical interest, the two re-collaborated forming an acoustic act: Old Barber Bridge (OBB).
Kevin Lureau, originally from Plymouth, Michigan, has called Vero Beach home since 1992.  Lureau has performed with local groups, Elegant Mess and the late, great Pete Harris. He has also shared the stage with such legends as Jose Feliciano, Kenny Rogers, and Arlo Guthrie. Lureau is self- taught on many instruments and brings those colors to the stage with OBB.
Stewart Pierce is originally from Camden ME, but has lived in Vero Beach for the past 37 years. Long time friends of Nesbit and Putzke, Stewart was the first person Jason knew in Vero Beach and they built their musical interest together at a young age. Pierce also played the trumpet in the marching and jazz band with Nesbit. These two old friends were in their first band together called Freudian Slip, playing in Tampa nearly 20 years ago.
Come out and enjoy an amazing acoustic mix of music by our local talented musicians OBB and the Oslo & Storm Grove Middle School Orchestras!