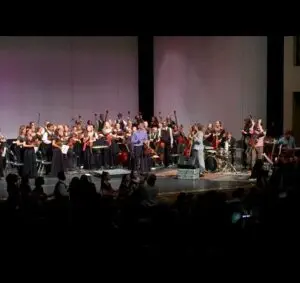 The Oslo and Storm Grove Middle School Orchestras with the Adam Ezra Group
POST CONCERT REVIEWS:
Thank you to all the benefactors, parents, volunteers and the Adam Ezra Group for making this a truly memorable experience for our Orchestra student musicians!  We are posting some You Tube links and feedback below of the concert and concert reviews.  Please feel free to email your feedback to the IRC School Board about the program's successful event!!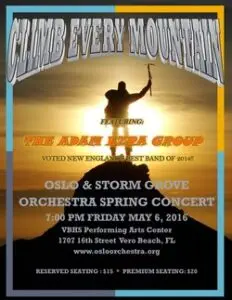 Come join us in celebration of the human spirit- overcoming all odds to: "Climb Every Mountain"!  This benefit concert will feature famous guest artists: The Adam Ezra Group!!!  Voted New England's Band of the Year 2014- and recently achieving New England's Best Song of the Year 2016- The Adam Ezra group will perform their own original music along with famous pop music alongside our talented orchestra students!!!!
When: 7:00 pm Friday May 6, 2016
Where: Vero Beach Performing Arts Center
1707 16TH STREET VERO BEACH, FL 32960
RESERVED SEATING /ADMISSION: $15
PREMIUM SEATING/ADMISSION: $20
BENEFACTORS:
YOUR DONATIONS WILL MAKE A DIFFERENCE IN THE LIVES AND COMMUNITY OF VERO BEACH STUDENTS FOR A LONG TIME TO COME!!!   WE WILL ALSO BE GIVING SOME SPECIAL RECOGNITIONS AND PACKAGES TO BENEFACTORS WHO ATTEND OUR CONCERT!
PLEASE CLICK HERE IF YOU WOULD LIKE TO BE A BENEFACTOR!!!
PLEASE VISIT OUR FUNDRAISING PAGE FOR MORE INFORMATION!

TICKETS
CHILDREN 5 AND UNDER ARE FREE.
PLEASE PURCHASE HERE

PLEASE NOTE: ONLINE TICKET PURCHASES LINK WILL BE SUSPENDED AFTER 4PM TODAY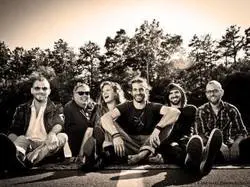 The Adam Ezra Group (AEG) is not just a band; they are a force to be reckoned with musically, personally and socially. Selling records and tickets is important to AEG, but they are committed to changing the world with their songs and their actions along the way. Ezra and his band are activists and community leaders as much as they are musicians and songwriters. Ezra has spent time living out of a van, farming in Canada, volunteering for the relief effort in Kosovo, and practicing environmental geography in South Africa. Whether as a kitchen hand or carpenter, teacher, athlete, or traveler, Ezra crams it all into the music, always challenging our perspective and often teetering somewhere between the ballsy rocker and sensitive poet. Through their non profit organization, RallySound, AEG helps people organize live music events that inspire communities and encourage grassroots activism.
The group's live performances, sweaty, passionate affairs that have been compared to those of Bruce Springsteen and the E Street Band, attracted the attention of Royal Avenue Records in 2010.  Ezra immediately signed with Royal Avenue and began working on the album that eventually became Ragtop Angel.  Royal Avenue paired the group with multiplatinum producer Aaron Johnson (best known for his work with The Fray) who has helped hone Adam's ramblings into finely tuned songs that still retain the power and conviction developed from Ezra's years of "do it yourself," grassroots work ethic.
In 2011, The Adam Ezra Group released "Ragtop Angel," the group's debut recording on Royal Avenue Records. Upon it's release, "Ragtop Angel" shot to the top of the Amazon charts (peaking at #4 behind John Mayer and Sarah Bareilles) and was featured on iTunes "New and Noteworthy Rock Albums" in December of 2011. Soon after, Ragtop Angel won "Album of the Year" and "Takin' Off" won "Song of the Year" at the New England Music Awards.
Over the course of the last few years the group found themselves with a handful of acoustic songs that we loved but didn't seem to fit in the context of other albums or live shows…. What to do? They decided to put them on all on one acoustic album. The group locked themselves in a cabin in the Catskills, set up instruments and hit record.  The result is the newly released "Daniel The Brave."
Having toured with Rusted Root, The Wailers, The Avett Brothers, Jason Mraz, Indigo Girls, Corey Smith, Deer Tick, The Goo Goo Dolls, Blues Traveler, Marshall Tucker Band, Los Lobos, Toad the Wet Sprocket, Dwight Yoakam, Gin Blossoms, and many more, the Adam Ezra Group has graduated from the local Boston scene to the national level with a momentum that is catapulting them towards being one of the country's most talked about bands.
"Not since Springsteen and Bono have I seen a lead singer with his talent and charisma." — Jack Casey, General Manager WERS radio in Boston
"They are one of the few bands out right now whose music is deep and real. It was an honor to tour with them." –Michael Glabicki,  Lead Singer-Rusted Root
"Ragtop Angel will certainly arouse the critics and may finally be the glue that cements Adam Ezra in place as one of the most gifted songwriters in the country." — Alternate Root