ROCHESTRA RETURNS with Bobby Yang and the Unrivaled Players!  
A RESOUNDING SUCCESS!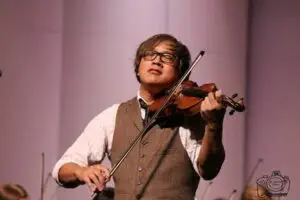 We had an A-mazing concert last night! If you were there.. congrats!  Hope you had a smashing time with us!  If not, you missed a VERY special evening of music from Star Wars, Holst, Tchaikovsky, the first premier of strings playing Radiohead and Soundgarden arranged by Bobby with our Orchestra! AND music from Bobby's own album: The Lost Cosmonaut!  WOW! We're still reeling from the fantastic music!
CHECK OUT OUR YOUTUBE CHANNEL CLIPS!
Here are some comments/feedback:
"I closed my eyes several times.. and felt transported! This was a middle school orchestra… but they had a mature sound beyond their years! Way to go!"
"Bobby Yang rocked the house with the Oslo & Storm Grove orchestra last night! What an amazing way for —–  to celebrate her 3 years in the orchestra. Richard & Nicole, you have given these young adults an experience they will carry with them always!"
We welcome YOUR feedback on our blog: Please click here.  And please don't forget to share your impressions with school personnel :-)!
A ton of thanks to our OPUS board for all their hard work!  And to all our valued Benefactors!  If you were a benefactor please share your FEEDBACK  HERE.
And finally, thank you to our amazing photographer: Nicole Leiner for capturing all the special moments- from the VIP Reception to the very end including this special pic of Bobby! You rock!
ROCHESTRA RETURNS! SPRING CONCERT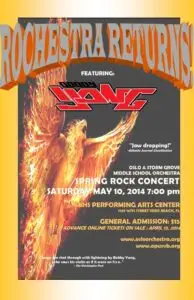 with Bobby Yang and his Unrivaled Players!
CLICK HERE TO LISTEN TO BOBBY YANG'S MUSIC!!!
CHECK OUT BOBBY'S BIOGRAPHY BELOW!!
Described as "a virtuoso with the frenetic energy of a hurricane" by the Denver Post, Bobby Yang is reinventing the sound of the acoustic violin. This electrifying evening of both classical and contemporary music will also feature the Storm Grove and Oslo Middle School Orchestra under the direction of Richard Ballinger.   Some selections performed will include Serenade for Strings Finale by Tchaikovsky, Black Hole Sun, Life on Mars and Star Wars!!!
Proceeds benefit the orchestra music programs in Indian River County. The goal is to promote artistic, academic and social skills that will benefit students for life!  
WHEN: 7:00pm Saturday May 10, 2014
WHERE: VBHS Performing Arts Center
1707 16th Street Vero Beach, FL
TICKETS
GENERAL ADMISSION: $15
ADVANCE TICKETS ARE NOW CLOSED FOR SALE.
PLEASE PURCHASE TICKETS TONIGHT AT THE PERFORMING ARTS CENTER FROM 6:00-7:00PM.
THANK YOU!
PLEASE READ BEFORE PURCHASING TICKETS:


ALL ONLINE PURCHASED TICKET(S) will be reserved in "Will  Call" in the PAC Lobby.    Please print out the PayPal receipt of your purchase and pickup your order with your ID the evening of the performance from 6:00-7:00 pm.   There is no need to email us to check that we received your order.  We receive emails of all orders and donations from PayPal.  We will have a list of all Ticket Purchases and your Ticket(s) will be reserved at Will Call the evening of the performance. We think many will appreciate this benefit as it will avoid any mishaps in the postal system or loss of tickets.  Thank you!
ALL ONLINE TICKETS must be reserved by 12:00 pm the day of the performance.
TICKETS may also be purchased with  cash, check or credit/debit card at the door the evening of the performance.
However, we cannot guarantee availability of tickets the evening of the concert.  We highly encourage you to purchase in advance thru PayPal. Thank you!
FAQ's
:
When will general admittance be allowed into the performance?
Our audience seating will be allowed 15-20 minutes before the performance.  Benefactors/ VIP guests will be personally notified as to other arrangements.
Is there a discounted rate for non-performing students/children?
Please keep in mind that this is an annual Fundraiser that will support our county's Orchestra students.  The high quality of our visiting artist's presentation would usually cost $50 or more per ticket.  Costs have been kept low so that families may attend.  If you have a child of 5 years old or under not requiring a seat but may sit in your lap- then entry for them will be free.
BENEFACTORS
WHY I SHOULD BE A BENEFACTOR:
BENEFACTORS… ….GET FREE ADVERTISING IN OUR ORCHESTRA COMMUNITY AND PROGRAMS!…. TAX FREE DONATIONS!…..RECEIVE SPECIAL V.I.P  PARKING & SEATING!…. GET A SPECIAL V.I.P. INVITATION TO OUR MEET AND GREET RECEPTION WITH OUR GUEST ARTISTS!…. SPECIAL ACKNOWLEDGEMENT ON OUR CONCERT EVENING!….THE FEELING THAT YOU HELPED THE CHILDREN IN YOUR COMMUNITY HAVE A BRIGHTER FUTURE BECAUSE OF YOUR SUPPORT OF THE PERFORMING ARTS… PRICELESS.
WHAT ARE YOU WAITING FOR?!
Melding his classical training with years of Colorado mountain woodshedding, Bobby Yang is reinventing the sound of the acoustic violin. His inimitable sound combines the virtuosity of the violin with the dirt of a bluegrass fiddle and the rawness of a guitar. He has surrounded himself with musicians who share his madness, his Unrivaled Players, while touring internationally.
Alongside classic rock jams, he is performing his latest album "The Lost Cosmonaut," a heroic and heartbreaking album of original instrumental music, on his current tour. It's a soundtrack for the most inspiring film you've never seen and features lush instrumental songs with memorable melodies. At each show, Bobby shares the story of The Lost Cosmonaut, an astronaut who was a hero of the race to space in the late 50s.
For his signature classic rock jams, Yang's violin acts as both the lead singer and guitarist, as the songs of Led Zeppelin, RUSH, and other rock legends, become instrumental jams.
In his own words: Its time for the violin to get dirty. And to clarify, he means the acoustic. His rendition of Eddie Van Halen's Eruption solo, a solo featured on Van Halen's debut album, is touted as better than the original, and Yang does it acoustically, without pedals or effects, on a wooden violin.
He perfected his classical chops while earning his Masters in Violin Performance with Paul Kantor at the University of Michigan and is a frequent soloist with symphony orchestras, including a breakthrough Harris Concert Hall performance of Mozart's 3rd Violin Concerto with improvised cadenzas and a last movement in-cadenza tribute to Hendrix's Hey Joe. This cadenza was a prelude to his current musical success.
Bobby's passion for rock has led him to new venues, including regular in-game performances for the NBA and NHL, rock clubs from NY to CA with his band, and music festivals including Stagecoach at Coachella, The Rock Boat, and the Downtown Hoedown in Detroit. Bobby's original compositions have earned the admiration of Top 40 musicians who invite him to write string arrangements for their pop and rock singles. In the studio, he uses the violin to create orchestral layers, composing parts for the cello, viola, and violin, and then performs each part on a separate track to create a recorded orchestra. 
In August of 2009, Bobby was featured on Collective Soul's album 'Rabbit'. He worked closely with Butch Walker crafting string arrangements for several songs on Walker's album 'Letters'. His work with Walker earned him the opportunity to record with Avril Lavigne, Cowboy Mouth, and Default. He has also worked with acclaimed 311 and Tool producer Ron Saint Germain.
Bobby has released three albums: the debut No. 1 Tribute, his second album, YANG IT! Live from Eddies Attic… YANG IT! – his personal motto – is a call for people to do their best and to do it with their own personal panache; the opposite of WING IT! And, now, "The Lost Cosmonaut."
When he isn't performing with his Unrivaled Players, Bobby is Kevin Costner's fiddler in Costner's new band Modern West. He is also featured in Costner's 2008 movie "Swing Vote". In 2014, Bobby performed on the CBS Late Late Show w/Craig Ferguson alongside The Alternate Routes.
While some violinists are clamoring to revolutionize the string world with the electric violin, Yang is proving that perhaps it isn't the violin that needs changing; its the violinist.