ROCHESTRA RISING! WITH BOBBY YANG AND HIS UNRIVALED PLAYERS- A-RISING TO THE OCCASION!
Post Concert Update- May 20, 2013
Check out some of our Concert clips via You Tube:
Sweet Home Alabama
Sweet Child O' Mine
Kashmir
Post Concert Update- May 12, 2013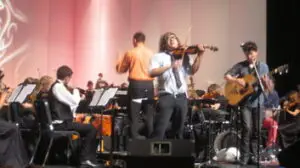 Thunder and lightning – could not dampen the spirits of our electrifying performance last evening! As all know who were present- a big storm went through just before the concert, had passed, and the show was just about to begin. I looked outside and was happy no more rain (there was one transition where kids had to briefly walk outside). Went to the right wing and was just about to cue students for places – and BAM! Lights out for the over 500 people in attendance! Everything after that was nothing short of heroic – Rising out of the darkness – the sweet sounds of absolute music – though delayed, the show must go on, and it did!
Two impromptu performances of: "Purple Rain" and "Sweet Home Alabama" by Bobby, David, and Tak, a few pep talks for the audience and students by me, and then we went on. Especially touching was the performance of Beethoven Symphony 7 (Allegretto) – reminiscent of it's original premiere by candlelight at a benefactor concert in 1813 – and the students played it with soul! It was cool how the lights briefly came on, then the thunder boomed again just before we began and again at the first climactic moment. And then, as the show moved on to our featured guest artists taking the stage – we're all preparing to play 100% acoustically and… LIGHTS! After that, Sweet Child wept with emotional intensity, and Kashmir – oh, Kashmir – words can't even fully describe the energy, drive, and perfect sync of all 120+ musicians on stage – still running in my mind! And lastly, all the incredible songs from the Lost Cosmonaut – a perfect blend of sounds delighting the ears of hundreds and pulling the heart strings of our being. I'm still in awe- still half in shock(!) – so inspired and proud of my students – and so full of gratitude to so many that I was able to be part of this extraordinary musical journey – we will never forget and draw inspiration from this forever!
Richard Ballinger
---
ROCHESTRA RISING!

SPRING ROCK CONCERT


WITH BOBBY YANG AND HIS UNRIVALED PLAYERS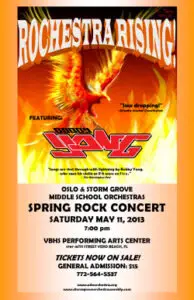 ---
Guest Artist, Rock Violinist Bobby Yang
www.bobbyyang.com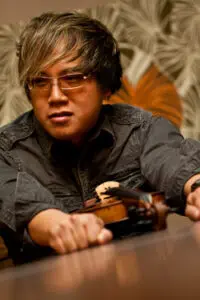 Melding his classical training with years of Colorado mountain woodshedding, Bobby Yang is reinventing the sound of the acoustic violin. His inimitable sound combines the passion of a violin with the dirt of a bluegrass fiddle and the rawness of a guitar. He has surrounded himself with musicians who share his madness, his Unrivaled Players, while touring nationally. In the band, Yang's violin acts as both the lead singer and guitarist, as the songs of Led Zeppelin, RUSH, and other rock legends, become instrumental jams. When he isn't performing with his Unrivaled Players, Bobby is Kevin Costner's full-time fiddler in Costner's new band Modern West. He is featured in Costner's 2008 movie "Swing Vote".
In his own words: "It's time for the violin to get dirty." And to clarify, he means the acoustic. His rendition of Eddie Van Halen's "Eruption" solo, a solo featured on Van Halen's debut album, is touted as better than the original, and Yang does it acoustically, without pedals or effects, on a wooden violin.
He perfected his classical chops while earning his Masters in Violin Performance with Paul Kantor at the University of Michigan and is a frequent soloist with symphony orchestras, including a breakthrough Harris Concert Hall performance of Mozart's 3rd Violin Concerto with improvised cadenzas and a last movement in-cadenza tribute to Hendrix's "Hey Joe." This cadenza was a prelude to his current musical success.
Bobby's passion for rock has led him to new venues, including regular in-game performances for the NBA and NHL, rock clubs from NY to CA with his band, and music festivals including Stagecoach at Coachella and the Downtown Hoedown in Detroit with Kevin Costner. Bobby's original compositions have earned the admiration of Top 40 musicians who invite him to write string arrangements for their pop and rock singles. In the studio, he uses the violin to create orchestral layers, composing parts for the cello, viola, and violin, and then performs each part on a separate track to create a recorded orchestra.
In August of 2009, Bobby was featured on Collective Soul's album Rabbit. He worked closely with Butch Walker crafting string arrangements for several songs on Walker's album Letters. His work with Walker earned him the opportunity to record with Avril Lavigne, Cowboy Mouth, and Default. He has also worked with acclaimed 311 producer Ron Saint Germain.
Bobby has released two albums: the debut "No. 1 Tribute" and his second album, "YANG IT! Live from Eddie's Attic". "YANG IT!" – his personal motto – is a call for people to do their best and to do it with their own personal panache; the opposite of "WING IT!"
While some violinists are clamoring to revolutionize the string world with the electric violin, Yang is proving that perhaps it isn't the violin that needs changing:  it's the violinist.